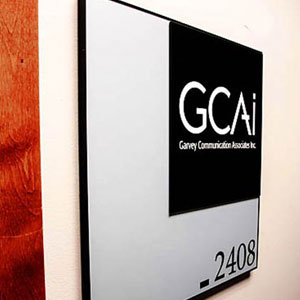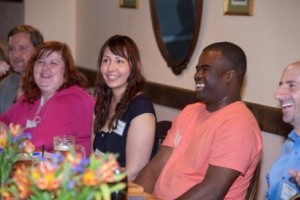 As you may already know, GCAI recently held a Tweetup for Facebook Fan Page Administrators. It was a great event and we hope everyone who attended had a great time and was able to learn something new! We had three panelists that were selected due to their outstanding Fan Pages: Tara Tetreault from Jackson & Connor, Kelly Galanis (AKA the Red Headed Diva) from Westfield State College, and Don Anderson from the Cruise Store. Dave Sweeney from Viz-Bang was there to shoot videos of the panelists and other attendees talking about the success they've seen with their Fan Pages and the types they like to see. The conversation was extremely engaging as everyone chimed into the discussion.
To thank participants, we handed out some useful prizes. Tom Galanis from Westfield State College and Suzanne Boniface from the Children's Study Home both won some "Garvey Gear." Dan Buendo from Reminder Publications, Moira Murphy from Coldwell Banker, and Mary Wiseman from Wiseman Designs were the winners of "Engage!" by Brian Solis. The grand prize winner was Mychal Connolly from Stinky Cakes who won a video shoot with Dave Sweeney and Marty Langford of Viz-Bang. We're looking forward to seeing it!
Thanks again to everyone that came to the event. We hope you enjoyed it as much as we did!
Photo: Don Anderson from the Cruise Store, Kelly Galanis from Westfield State College, Tara Tetreault from Jackson & Connor, and Mychal Connolly from Stinky Cakes
https://www.gcaionline.com/wp-content/uploads/2016/10/GCAIdefaultthumb.jpg
300
300
Garvey Communication
https://www.gcaionline.com/wp-content/uploads/2016/10/GCAI-Logo-IDM-340x240.png
Garvey Communication
2010-04-22 14:22:50
2011-10-17 20:36:21
Tweetup For Facebook Fan Page Administrators