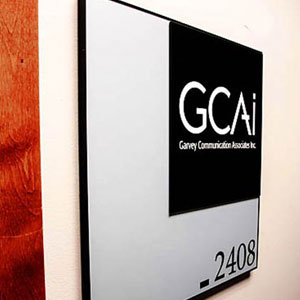 These entrepreneurs literally traveled thousands of miles to get to the hub of the universe to learn the secrets of startup success. Hosted by the global accelerator MassChallenge, a group of entrepreneurs from Mexico and Colombia spent time in Boston recently to learn about raising funding from some of the area's top angel investors, the benefits of shared workspace at the Cambridge Innovation Center and the secrets of digital marketing from GCAi. The 90 minute workshops covered Online Advertisement, Social Media Marketing, and Media Relations and was presented by GCAi team members Mary Fallon, John Costello, John Garvey, and BostInno Associate Editor Lauren Landry. The ventures included consumer goods, healthcare, agriculture products, and technology startups.
[These photos can also be found on our Flickr page]
"Our needs assessment indicated that the startups were very interested in using Social Media to reach their customers," indicated Mary Fallon, GCAi's Media Director. "There have been a lot of recent platform changes, especially Facebook, so we focused on creating great content and paid promotion which was somewhat new to them. Online advertising was also new to most of the startups, but given its ability to cost-effectively target, we thought it would be a useful tool."
Discussions with the startups revealed differences between the U.S. verses Latin America use of Social Media. "Pinterest has not hit there yet," noted John Garvey, GCAi's SEO PR Director. "They also were not that hot on LinkedIn. Given that most of them had aspirations of penetrating the U.S. market, we highlighted both of those platforms as well. I think the exchange of ideas was the best part of the program. We learned from them and believe they valued our thoughts as well."  Other platforms examined included Twitter, which most of the ventures were active on, and Google+ which, again, was not as popular. GCAi created a special online database for the startups so that they could learn more about any of the subjects introduced during the presentations.
"During the breakouts, they had a lot of follow-up questions on attracting followers and creating engaging content," explained John Costello, GCAi's SEO PR Analyst. "Most of them were in a selling mode on Social Media. So, we explained the need to shift gears and move toward content that might be more useful and informative to their audience. We introduced them to the concept of creating editorial calendars with specific content buckets as well as monitoring and measuring engagement. As you would expect, these were new concepts to them and pretty much would be to any startup."
The presentations were a continuation of GCAi's support for startup accelerators in Massachusetts. GCAi team members also hold office hours at MassChallenge, judge applications, and mentor specific startups. GCAi has provided similar support to Valley Venture Mentors for the past several years.
https://www.gcaionline.com/wp-content/uploads/2016/10/GCAIdefaultthumb.jpg
300
300
Garvey Communication
https://www.gcaionline.com/wp-content/uploads/2016/10/GCAI-Logo-IDM-340x240.png
Garvey Communication
2014-03-28 11:31:13
2014-03-28 11:31:39
Latin American Startups Get a Taste of GCAi's Digital Marketing Secret Sauce