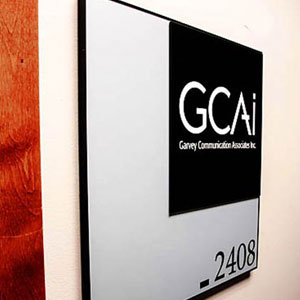 It is the season for predictions, but GCAi Media Director Mary Fallon would rather go with sure things.  So, the editors at #GCAiPlanet sat down with her recently and asked her the following question:
"Can you make sense of this crazy, shifting digital marketing landscape in the coming year for our readers?"
After an ever so slight smirk that could be interpreted as a scowl, Mary gave us her call on digital marketing in 2015 from the perspective of what she knows, not what she thinks will happen. Of course, we got to write the headlines.
#1 Social Media Platform Worry To Ease. Panic Sets In.
"Brands do not need to worry about which social media platforms they should be using anymore," noted Fallon. "Instead they need to focus on the best ways to utilize the ones they are currently on. In 2015, winners on Social Media will be those brands who can best understand the audience's needs on their current platforms and then meet them through a very refined strategy.  For some brands, it may be time to start thinking about stepping out of Social Media entirely and instead focus on creating their own channels in order to cultivate their unique audience."
#2 "Have It Your Way" (Or "Personalize, Personalize, Personalize")
"Digital Marketing is becoming increasingly more personalized," suggested Fallon. "Going into next year, consumers will be expecting a customized experience. Remarketing can open the door to creating new experiences for consumers when they return to your website. The easiest, non-data driven way to personalize is giving your customers the information they want, when they want it, and through the channels they prefer. Content Marketing is one way to do that."
#3 Content Marketing Rises Up And Eats The Planet
"Of course, one of the primary ways brands will deliver useful information to targeted audiences will be through Content Marketing," Fallon explained. "Brands becoming publishers will be even more dominant in 2015 which is good news for journalism and communications graduates. Creating compelling content is not easy and best left to the experts – professional writers. If you don't know one, start searching LinkedIn. Successful Content Marketing demands content that is inspiring, relevant and useful.  Creating it and disseminating it is a pay-to-play effort, so media spending will shift accordingly – away from traditional and more toward targeted digital."
#4 "Every Picture Tells A Story Don't It?"
"'A picture is worth a thousand words will become more true than ever in in 2015,"predicted Fallon, before telling us exactly what marketers needed to do.  "Brands need a variety of visual assets at their disposal.  Images, infographics, memes and more allow consumers to absorb information in the manner that best suits their preferences and will tell a brand's story in a succinct but meaningful way. Videos will play an even larger role than static images and will serve as a way to emotionally connect with consumers through sight and sound. One platform to watch is Instagram – it's all visual and its user numbers just passed Twitter."
#5 Mobility Takes To The Road
"Consumers will increasingly access information anytime, anywhere," stated Fallon. "That train left the station in 2013 really. Mobile enabled websites, email and content marketing, and digital advertising are all critical in 2015. This is not a DIY project either. Find a pro and make sure you analyze the results. All digital marketing is highly measureable and offers many new targeting options. If you want to talk to specific customers and prospects, you can't beat digital marketing and specifically, mobile marketing."
There's Something About Mary.
Mary K. Fallon is a veteran online advertisement planner who has earned Google AdWords Certification. She is adept in building and managing campaigns on the Google Display and Search networks as well as Facebook, YouTube and other content specific sites [MORE].
Editor's note: Click on the hyperlinks in each section for more "how to's" from some of our favorite articles and resources.
https://www.gcaionline.com/wp-content/uploads/2016/10/GCAIdefaultthumb.jpg
300
300
Garvey Communication
https://www.gcaionline.com/wp-content/uploads/2016/10/GCAI-Logo-IDM-340x240.png
Garvey Communication
2015-01-07 08:00:36
2015-01-16 16:51:33
From The GCAi Desk: Fallon's Five Digital Marketing Strategies For Success In 2015