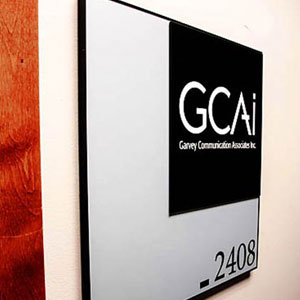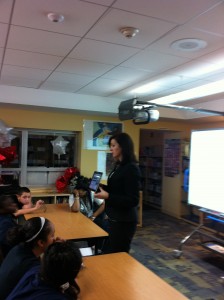 On January 10th, GCAI kicked off the seventh year of "Media and Marketing for Middle School," a vocational mentoring program at the Zanetti School in Springfield, MA. The program was started by Holly Barden-Lopez, an English Language Learners teacher at the school and John Garvey in order to introduce students to the marketing field and all of the writing that it entails.  At that time, Holly had requested that we meet with a small group of her students to discuss the pamphlets they were working on. We  decided to built on that idea and introduce them to the entire print production process – from concept and copy to inks and printing. Since Zanetti was our neighbor at the time, we were able to take them on a variety of tours including  James Langone's Photography Studio, The Republican, CBS3 Springfield and our office on the 24th floor of Tower Square. John was not offended when students remarked that the best part of the office tour was looking out the window as opposed to his comments.
When the school moved out of their 100 year old building and into a new facility a couple of miles away, GCAI brought the program to them – with some new twists. While traditional media remains a big part of the program, digital marketing is increasingly playing a bigger role in the presentations.  Television, radio, and print news will all be covered, but so will the mobile wave, social media, and online advertising.  Most of the eighth grade students participating have Internet access in their home and are active on Facebook. Many of them already have Smartphones and all of them have iPads, thanks to a grant written by their teachers Tonya Claiborne and Wendi Meunier.
Along with John's introductory presentation, the 2012 speaker lineup is as follows:
1/17 – Brenda McGiverin, Digital Sales Director, WWLP.com
1/31 – Elysia Rodriquez, Anchor/Reporter, WWLP 22News
2/7 – Craig Swimm, General Manager, WMAS 94.7 FM and  "The Hall" 1450 AM
2/14 – Elizabeth Romàn, Reporter, The Republican
2/21 – Mary Fallon, Media Director, GCAI
Thank you to all our speakers and stay tuned for more reports from the classroom!
https://www.gcaionline.com/wp-content/uploads/2016/10/GCAIdefaultthumb.jpg
300
300
Garvey Communication
https://www.gcaionline.com/wp-content/uploads/2016/10/GCAI-Logo-IDM-340x240.png
Garvey Communication
2012-01-18 13:07:31
2012-01-18 13:11:28
"Media and Marketing for Middle School" Goes Digital