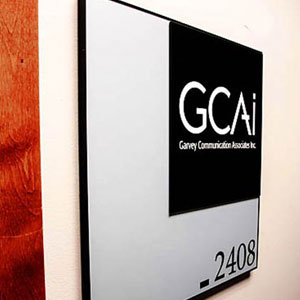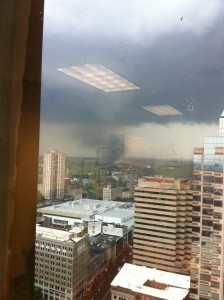 By John J. Garvey
Who would have thought that my digital "15 minutes of fame" would come because of a tornado passing right by my 24th floor window?  Tornadoes just don't happen in western Massachusetts.  In fact, it took my co-worker Mary Fallon and I a few seconds to realize what it was despite its obvious destructive power. Once I did, and came to the conclusion that it was moving away from us, I snapped a picture and did what any other digital native would do. I posted it to Twitter.
Twitter is the same social media platform that I am always a bit squeamish about explaining to clients and prospects. It's hard to say tweet or tweeted with a straight face in a business meeting. Every time I do, eyebrows raise and thought bubbles are suddenly very visible: "And this from man who calls himself a PR pro?" This is the same Twitter that only about 13% of online adults using it? It's no earthling-eating Facebook after all.
Tweet I did and that is when the action started. This recent story in the Sunday Republican captures most of it – how national news organizations one by one lined up to ask permission to use my tweeted photo minutes after I clicked send. That's just part of the story however. Sure CNN, ABC News, and in particular AP helped yield the seven pages of results now available through a Google Image search ("john garvey, tornado"). But it was the story itself and the resultant commentary on social media that quickly buried the needle on our search and social media intelligence software. In fact, the initial 10,000 results that came in on the keyword phrase "Springfield, MA" basically shut down our system.
One other metric, Google Trends, had the search term "Springfield MA" as the number one hot search in the entire US on the day of the tornado – a status described as volcanic. Now, to put that into context, "Springfield MA" finished ahead of Shaq, who had just announced his retirement: Ocotomom, whose doctor had his license revoked; and Anthony Weiner, who – well, you know that one. That is truly volcanic hotness. The peak for that hotness happened at 6 p.m. EST, about an hour or so after the tornado had passed.

In just 24 hours, we picked up over 6,400 individual mentions on social media alone and the search for "Springfield MA tornado" yielded close to 1.2 million results, including one funny video, in the weeks following the event. The volume of social media commentary remained incredibly high after the tornado as well: close to 5,000 mentions.
What's a mention you might ask? Here are a few random samples:
RT @nytimes: A Tornado Is Reported in Springfield, Mass. http://nyti.ms/lC8BRu
@feliciaday Hi Felicia, would you like to send your love to community in and around Springfield, MA?…
Well damn. As if my old home didn't have enough problems. RT @science: Tornadoes strike Springfi…
(We have about 4,997 more.)
Even more amazing is our analysis of where these mentions came from. While you would expect the top states to be in the New England area – and, in fact, MA, CT, and NY are the top three. Wrong! Our analysis shows that after our fellow neighbors in MA, CA was commenting the most about the tornado, followed by NY and CT. It appears that that Whitey Bulger was not the only MA expat hanging out in the Los Angeles area at that time. We have no evidence of him tweeting, however.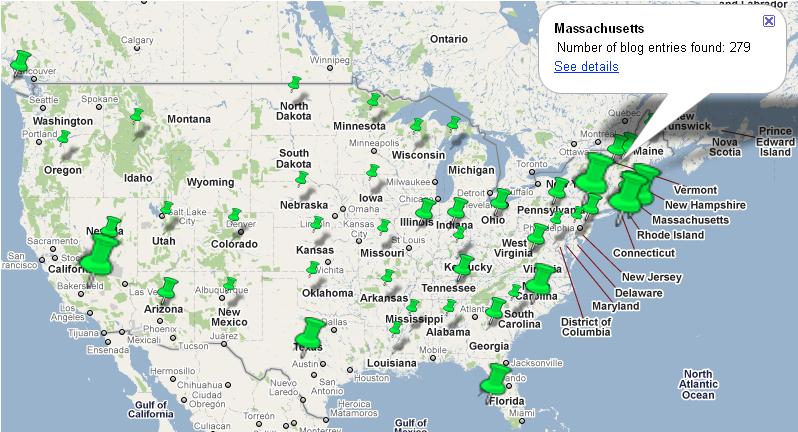 Conclusions?
1) I am no longer squeamish about saying Twitter, tweet, or tweeted around adults. In fact, I have let it be known that I actually am a Twitterer.
2) As proven through this experience, Twitter is a great way to get information and share information.
3) For those of us in the digital communications business, Twitter and social media are very important channels to use to connect with media quickly.
4) Social media essentially makes the response time for crisis communications zero. Media are monitoring these channels and as soon as a negative post goes up, it is in their hands.
I don't care what the other 87% of Americans think – they are missing out and I have proof. Also, compelling news travels and gets shared. Creating compelling, share-worthy content is the goal. Sure, a tornado on a rampage in New England is pretty compelling, but then again, most of us do not need 1.2 million search results either.
Final note: There was nothing funny about this tornado. Mary and I had front-row seats to the destruction and have seen up close the damage, devastation, and despair.
Thank you to Laura Chechette otherwise known as @GarveyComm for helping me pull together these statistics.
Media Links:
Pew Internet Research Twitter statistic
Sunday Republican Article, Springfield tornado photo storms around the world
Google Image results for "John Garvey, Tornado"
Google Hot Search results June 1, 2011
Flickr photoset of GCAI tornado images
https://www.gcaionline.com/wp-content/uploads/2016/10/GCAIdefaultthumb.jpg
300
300
Garvey Communication
https://www.gcaionline.com/wp-content/uploads/2016/10/GCAI-Logo-IDM-340x240.png
Garvey Communication
2011-06-29 11:52:42
2011-06-29 12:18:56
Tornado's Winds Whip Up Volcanic Search Results