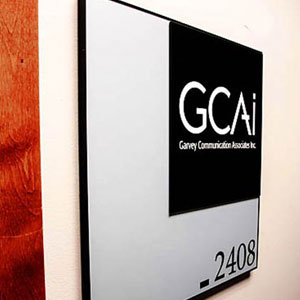 Darcy Fortune, SEO PR Analyst at Garvey Communication Associates Inc. (GCAi) has experience in television news and video production. She previously served as Production Assistant, Field Producer, and Assignment Desk Editor at the local ABC and Fox affiliate, as well as Multi-Media Journalist and Production Assistant at MPACT-TV.  
Video is one of the best tools for improving your public relations efforts and reaching your target audiences. Whether you're pitching a story, planning an event, or developing content to be published on the web, we suggest you consider producing a video. As video views on YouTube and Facebook skyrocket and attention spans diminish, video content has never been more important. But creating a quality video doesn't need to be complicated or expensive. #GCAiPlanet sat down with Darcy Fortune to discuss why video is so important, what kind of video you should create, where to post it, and how to create it on a budget.
1.) Why do you need video?
According to a study by Cisco Systems, by 2018 video will represent 69 percent of all mobile traffic. This means that audiences will be viewing more video than anything else when logging onto their mobile devices.
"Video is the best way to connect with your mobile audience and increase their understanding of your product or service. It is a powerful tool for boosting engagement with your audience, driving traffic, and increasing shareability," Darcy said.
One-third of all online activity is spent watching video. Ninety percent of the information transmitted to the brain is visual, and visuals are processed 60,000 times faster in the brain than text (Source: 3M Corporation & Zabisco). These statistics make clear the benefits of using video as opposed to written content.
2.) What types of videos should you be producing?
Video for the media: "Help the reporters do their job. If you want them to interview you or your client on a specific topic or story, entice them with a preview of what the interview might look like. Conduct and shoot the interview yourself, but be strategic. Shooting your own B-roll to provide to the reporter is another way to increase the likelihood of getting coverage," Darcy suggested. Remember: the average news story is 1:30 minutes long, so whatever video you produce for this purpose should be around that length or shorter.
Tutorials and showcase offerings: "A how-to video is an easy way to help your audience understand your product or services," Darcy said. "Demonstrate how to use the product or give an overview of your service by outlining basic steps. Get straight to the point, and give the audience the information they need. These videos can be simple to produce. Additionally, if you have a special deal going on or you want to showcase a service offered, video is great way to do so. But just give the audience a teaser – add a call to action at the end and make them click to learn more."
Campaigns and brand value stories: "The best way to utilize video in a campaign is at the kickoff. This will build excitement and create a movement around your campaign," Darcy noted. "Brand value stories are the heart of PR. Tell the audience exactly what it is that you're doing. Be a storyteller and highlight the values of the organization, internally and externally. If you need ideas, talk to the people who work there."
3.) Where should you post video?
Now that you have created all these great videos, post them on YouTube. It is the world's most popular video-sharing platform and the highest-trafficked web-based video publishing platform. Besides the fact that it's free, there are many other pros of this Google-owned site. You have the option to pay to promote, you can optimize searchability with tags, and you can personalize your own channel. Darcy made some suggestions for what to do once you've uploaded your video to YouTube:
Web landing page: "This is a great location for how-to videos and videos that highlight or showcase your services. They can be on the longer side – one to two minutes. Make sure the videos you post to your website have a timeless element and don't cite specific dates, that way they stay relevant and it is not necessary to update them frequently," Darcy advised.
Social media: "Social media platforms are great for timely videos like campaign kickoffs and special offerings," Darcy told us. "Don't ever post a video longer than 30 seconds, and even that's a stretch. According to the Statistic Brain Research Institute, the average attention span of a human is 8.25 seconds. Embed the video right in the post and promote. Each social media platform has different standards on size and length, so do your research first."
Anywhere else: You can show a video at an event, add links to video in your digital media kits, make pitches to the media, or embed video in your email newsletters. The possibilities are endless.
4.) How can you create quality video on a budget?
Don't waste your time buying thousands of dollars of professional video equipment. There are just a few important pieces of equipment needed to produce quality video. In fact, you may already have these tools lying around.
iPad: "Any tablet with a camera can produce fair results," Darcy explained. "I prefer the iPad Air 2 for its new iSight camera, which can capture sharp 1080p HD video. The viewfinder makes it easy to shoot, just like this video here."
Microphone: "The iPad comes with a built-in microphone, which can produce good audio if you are in a completely silent room. But I wouldn't rely on that mic," Darcy warned. "If you want good-quality sound, use a clip-on lavalier mic that can connect to your iPad. I found one on Amazon for $25 that is compatible with the iPhone, iPod Touch, and other smartphones. I also ordered an extension cord for this lav mic so I have more flexibility when shooting the talent."
Tripod: "Unless you're planning a Blair Witch Project–type production, you will need a tripod to get steady shots. There are a lot of options out there, and prices can vary. I bought one for $45 on Amazon that can adjust to any tablet size," Darcy said.
Editing software: "Utilize the free programs you may already have on your desktop computer. iMovie is great for beginners and can provide quality postproduction, but it all depends on your skills," Darcy remarked. "I prefer Adobe Premiere Pro Creative Cloud, which includes After Effects for motion graphics and Media Encoder for exporting."
https://www.gcaionline.com/wp-content/uploads/2016/10/GCAIdefaultthumb.jpg
300
300
Garvey Communication
https://www.gcaionline.com/wp-content/uploads/2016/10/GCAI-Logo-IDM-340x240.png
Garvey Communication
2015-07-08 09:55:41
2015-07-08 09:57:21
From The GCAi Desk: How To Produce Videos For PR On A Budget