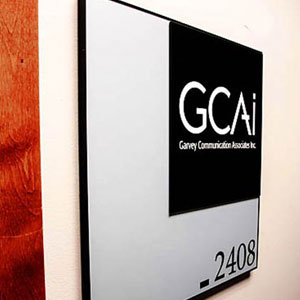 Back in the day (like five years ago), GCAI provided pro-bono Public Relations services to  Greater Springfield Habitat for Humanity's blitz builds, so the concept of rallying volunteers, supplies and donations to build a house was not a new thing to us.  Then, along came the Extreme Makeover: Home Edition (EMHE) Springfield build.
For those who have not followed the show since its inception in 2003, basically its star Ty Pennington and his design crew roll into town, partner with a local builder and then build a new home for a deserving family in about a week. Although there is undoubtedly a lot of background work that takes place over the months preceding the build, the local builder and supporting volunteers (insert PR agency here), complete their work in about five weeks.
What made this build quite interesting for GCAI, was the fact that it would help the family of Carl Joseph Walker-Hoover, who committed suicide at the age of 11 after being subjected to relentless bullying at school. We have provided pro-bono PR services to a foundation in his memory for the past two year and were preparing to launch their second annual race/walk to raise money to support anti-bullying efforts.
By agreeing to take on EMHE, we would have two significant pro-bono efforts going on at the same time. Not the smartest business strategy, but our hearts were committed!
Unlike our previous Habitat blitz build efforts, GCAI would bring its full tool box of digital marketing strategies to the EMHE effort.  That would include starting and managing  of an online community that experience explosive growth, Search Engine Optimized PR, and online management using iPhones in the field, Sponsored Posts advertisement on Facebook and more. Our objectives were simple: develop volunteer support, media coverage, and donations. The response to our efforts was stunning!
In just under five weeks, the Facebook community we started for EMHE grew to over 7,000 members (see example A).  With management activity that just about matched the 24 hour a day demands of the build itself, this community thrived. It solved problems, answered questions, chased off trolls and spammers, donated supplies and money and volunteers, and – in doing so – exceeded our wildest expectations.
Using Facebook Insights, we were able to determine that the EMHE Springfield page received over 1 million impressions and engagement occurrences (fans interacting with a post) which reached 8,000.  Active and live community management ensured that engagement spiked at key points during the event, in this case, the 9/11 "Door Knock Day" and 9/18 "Reveal Day" (see example B).  We chose not to use scheduled posts very much during the five week event due to concerns about Facebook relevancy scoring (diminished impressions due to using a third-party app to scheduled post). At the Online News Conference in Boston MA recently, Facebook presenter Vadim Lavrusik suggested that this was not the case. Still, GCAI would recommend live community management for events like EMHE even though it is extremely labor intensive.


Despite the lack of advanced planning time, our available technology – critical to SEO PR and real time community management – worked quite well.  As previously mentioned, iPhones and certain apps were key to these efforts.  Rather than use embargoed releases, we chose to disseminate from the field using the iPhones.  We were also able to take pictures and capture video which – upon approval from the show – could be posted right to the Facebook Fan page.  The phones provided a means to communicate with media (by text and email) – who were traveling up to an hour and a half to cover the event. We were also able to call in interviews to 94.7 FM WMAS who provided daily coverage of the event.  Media also posted extensively about the event on Facebook and Twitter. Using the iPhones, we could Like or RT these mentions – thus giving them extra SEO value.  The result was fans would could not attend events, where therefore able to enjoy all the excitement through the fan page.  Community management was live and instantaneous (see example C)
We did discover the outer limit of SEO PR conducted from the field, however.  That limit is battery power and we are currently researching several battery backup solutions for our next effort.
Interestingly, the local Twitter community did not respond to this effort at all.  The EMHE profile was used for PR dissemination, but generated very little by way of followers and engagement (See example D). Hashtag use was encouraged and used, but again, in very low numbers.  GCAI generally has found that the local Twitter community is not responsive to charitable or civic efforts in terms of engagement (RTs, mentions, offers of support).
Finally, we were monitoring and searching for multiple keywords as part of our online reputation management strategy. There was a relatively low response because the majority of the conversation stayed within the Facebook community that we had created. We did find a few negative posts within the comments section of online newspaper articles. Those responsible for the negative posts, trolls or spammers as we like to call them, were forced out of the community by other commenters. The negative posts were often marked as spam or inappropriate by members of the online newspaper community to prevent further posting.
If you have suggestions for future Social Media News posts, want to be a guest blogger, ask questions or share thoughts, please feel free to email me. Thanks! – Laura
https://www.gcaionline.com/wp-content/uploads/2016/10/GCAIdefaultthumb.jpg
300
300
Garvey Communication
https://www.gcaionline.com/wp-content/uploads/2016/10/GCAI-Logo-IDM-340x240.png
Garvey Communication
2011-10-05 11:28:51
2011-10-05 16:37:42
Extreme Makeover: Home Edition Requires Radical PR Tactics