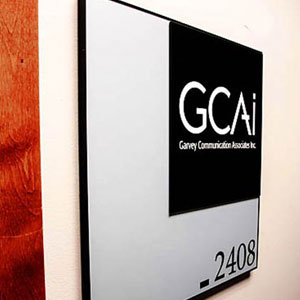 From time to time, as your news feed shows you pictures from a near-stranger's vacation, you may wonder how Facebook decides what you will see when you're logged in. The order of posts that appear on a user's news feed is determined by an algorithm which takes into account and ranks many different factors, including engagement. That means, if a post has a high amount of likes, comments or shares, it gets ranked higher and you're more likely to see it in your news feed.
One way to create a boost in engagement is by running a Facebook contest. While many businesses are aware of this promotional strategy, fewer are aware of the legal requirements associated with their contests. Some companies may knowingly run illegal contests, but most are simply unfamiliar with the intricacies of Facebook's rules and are unlikely to realize the consequences until it is too late.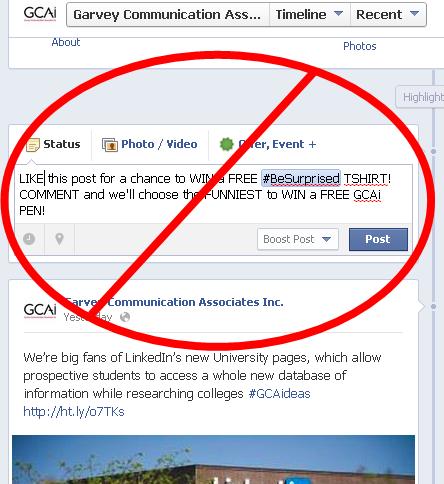 In order to keep a level playing field and discourage the use of promotions to artificially inflate engagement (and therefore bump other posts from a user's news feed), Facebook has established promotions rules which they attempt to enforce. For example, Facebook requires that all contests must be run through a 3rd party app. This results in two options for Page managers:
1.)    Have a developer code an app for your Page and then install it
2.)    Use a 3rd party app provider such as Wildfire, Woobox, or Offerpop
Some other examples include guidelines such as "the act of liking a Page or checking into a Place cannot automatically register or enter a promotion participant" or "You must not notify the winners through Facebook". A full list of rules can be found here.
So what happens if you violate Facebook guidelines and get caught? If a Page breaks Facebook's contest rules, they put themselves at risk of being punished through the deletion or removal of the Page in question. Facebook does allow confidential reporting by users. Therefore, if someone sees an illegal contest they can submit an anonymous report which Facebook will look into and respond to as necessary. Unfortunately, it is hard to find examples of Pages being penalized for illegal contests because most are embarrassed of their misstep. BusinessWest provides an article, highlighting a Page called GadgetsGiveaway which received abnormally high engagement by running an illegal contest, and was subsequently shut down.
After taking a moment to review Facebook's promotions guidelines, it is easy to see how a contest can violate the rules if not constructed carefully. Consulting the rules before running any promotion via Facebook will save Page managers a great deal of grief by ensuring that no policies are violated. It is certainly better to take an extra few minutes to review rather than waste an entire campaign by having it shut down.
If you have any additional questions or would like to suggest a topic for future articles feel free to email me-John
https://www.gcaionline.com/wp-content/uploads/2016/10/GCAIdefaultthumb.jpg
300
300
Garvey Communication
https://www.gcaionline.com/wp-content/uploads/2016/10/GCAI-Logo-IDM-340x240.png
Garvey Communication
2013-08-22 11:00:14
2013-08-28 09:16:40
Don't Get Screwed by Facebook's Contest Rules